RETRO-man is a fun and creative retro retrospective for use in agile teams.
RETRO-man is created in honour of PAC-man's 40th anniversary this year. The retrospective is created in Excel with macros and the team takes in in turn to move the RETRO-man (the letter 'C') around and must not get caught by the ghosts (letters
'A' and 'a'). Every 5 moves the game displays a topic for discussion in the team. We have created over 50 questions for the team, but you can change it to your own topics. Once the player gets caught (which is when duration is exceeded – but the team doesn't know this).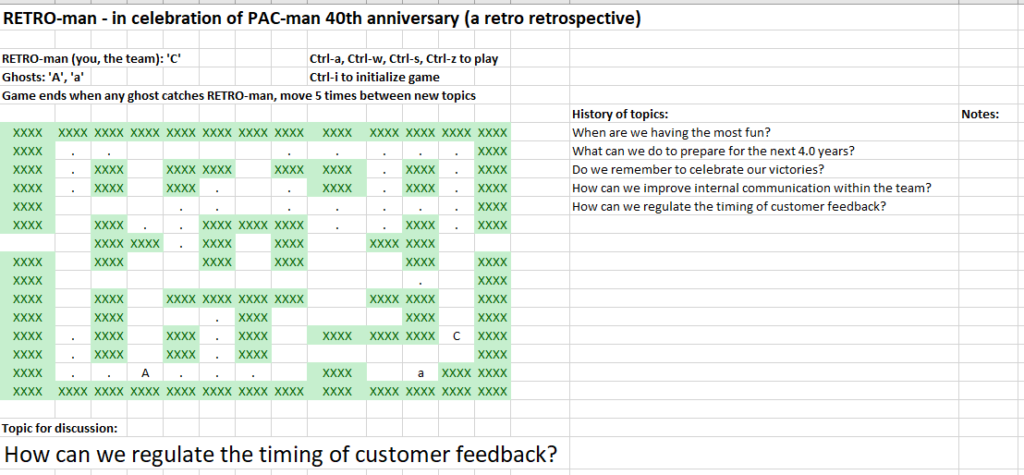 So far we have tested this game on 3 teams in the company we work and everyone really likes it as it gives the team new energy, it makes the normal serious retrospectives more fun, helps building teamwork as the team also might discuss retro games and the game itself. All this and all the perspectives you get when you change your normal team retrospective.
The game contains over 50 questions you can use with your development team, but it's easy to change the retrospective for your own questions/topics. Find instructions on the "Help"-tab in the spreadsheet.
Press here to download the RETRO-man Excel game
Once the spreadsheet has loaded, you can check the tab, "Help" for instructions. To be able to use the game, you must activate editing and activate content.
The retrospective is written in Excel with VBA-macros, and although we haven't added any malicious scripts, you should check the code yourself. We cannot accept any liability for using the game.
The game was written Katrine Caroline Christensen and me, Jakob Hoffmann, are both scrum masters in a financial compnay in Denmark. Katrine has a Masters Degree
in Eductional Science, specialising in gamification and knowledge sharing. I have a background as developer and project manger and has been working as a scrum master since 2012.
Katrine Caroline Christensen LinkedIn public profile